Mr Vikram Desai
Consultant Orthopaedic Surgeon
Mr Vikram Desai is a prominent orthopaedic surgeon based in Mansfield, Nottinghamshire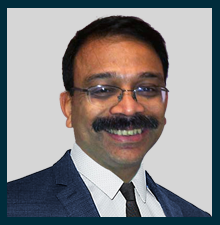 Having qualified in 1986, from the prestigious Grant Medical College, in Mumbai India, he did his orthopaedic training at Sir J.J. group of hospitals before moving to the UK for further training. In England he completed his training from Nottingham and then undertook his specialist fellowship at the Avon Orthopaedic Centre in Bristol in the field of knee surgery.
He was appointed as a Consultant Orthopaedic Surgeon at the King's Mill Hospital in Sutton–in–Ashfield in 2000. He performs a large number of knee and hip replacement operations and also treats knee ligament injuries.
Mr Desai specialises in knee surgery and complex knee problems. He has extensive experience in treatment of knee arthritis and is one of few who perform partial knee replacements, especially in the young patients. He also undertakes Total knee Replacement surgery and specialises in Revision knee surgery and treatment of patients with on-going problems following knee surgery. Further he is well experienced in the treatment of soft tissue knee conditions such as ACL reconstruction in people with sports injuries as well as treatment of recurrent dislocations of patella and anterior knee pain. Himself a keen marathon runner, he understands several issues with biomechanical abnormalities and is keen to help patients return to their activity of choice.
Furthermore, Mr Desai performs several hip replacement operations in a year and has excellent outcomes as published in the National Joint Registry.
As an Honorary Lecturer at the Nottingham University, Mr Desai is actively involved in teaching and training medical students as well as doctors. He has conducted several courses, training not only doctors but also physiotherapists and nurses. He lectures at several courses and meetings as an invited faculty. He is a keen educator who is involved in orthopaedic teaching and training as well as being an instructor at the Acute Trauma Life Support courses. This interest in teaching means that he is an examiner for medical students as well as the FRCS orthopaedic exam. He is a Royal College Representative on the Consultant Appointment Advisory Committee.
In addition to clinical work, Mr Desai is actively involved in research in Orthopaedics. He is part of the Multicentre TOPKAT - total or partial Arthroplasty trial as well as SNAPP - the Anterior Cruciate Ligament Trial. Over the years, he has published several topics in peer review journals and is a reviewer for The Knee as well as BMJ.
Academic Awards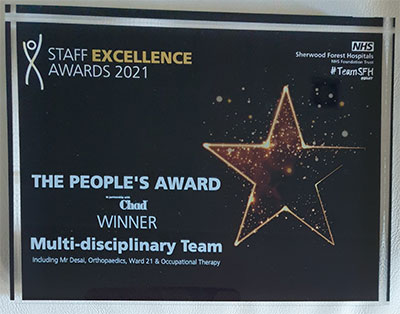 Distinction in Anatomy in MBBS 1982
Postgraduate Merit Scholarship. Bombay University. 1982 - 1987
Norah Walker Prize for Radiology at M C h. (Orth) Examination, Liverpool University 1997
First Prize for Best Basic Science Paper at the Annual Registrar's Presentation. Bristol. 1998
Research
Thesis
Camp Approach to Management of Poliomyelitis of Lower Limb.
V. Desai Thesis for MS (Orth) 1990.
The Fractured Scaphoid - A Study of 151 Acute Fractures and A Comparison of Fracture Classifications.
V. Desai Thesis for M C h. Orthopaedics - University of Liverpool. Nov. 1997.
Publications
Abstracts
Hallux Rigidus - A Case Against Joint Destruction.
V. Desai, G Zafiropoulos, J Dias, APJ Henry. Journal of Bone and Joint Surgery. 76 B Sup II and III Nov. 1992
Polyethylene Wear in the St. Georg Sled.
V. Desai, J.H. Newman. Journal of Bone and Joint Surgery. 84B Sup II, Sept 1999.
Progression of Arthritis following patello-femoral replacement.
S. Khan, V. Desai, J.H. Newman. Journal of Bone and Joint Surgery. 84B Sup II, Sept 1999.
Polyethylene Wear in the St. Georg Sled unicompartmental knee replacement
V. Desai, J.H. Newman. Journal of Mechanical Engineers. July 1999.
Resource utilisation & its outcome for a paediatric orthopaedic referral in a District General Hospital
Dr D K Sharma, VV Desai, P J Livesley
Poster Publications
The use of serial Hyalgan injections for knee osteo-arthritis
Malkin Meeting, 25 th June 2010 - Queen's Medical Centre, Nottingham
Case report: Postpartum Avascular necrosis of the femoral head
P. Sen, S Mukhophadhyay, S. J. Ward, A. Pace, and V Desai
Golden Patient - A Highly Effective Method to Improve Trauma Theatre Efficiency. Saggah Shalabi,
V Desai - EFORT Congress - Prague - 29 th May 2015
Papers
Acute Fractures of the Scaphoid : Treatment by Cast Immobilisation with the wrist joint in Flexion or Extension?
J.E. Hambidge, VV. Desai, TRC Davis, PJ Schranz, JP Compson, NJ Barton. J. Bone and Joint Surgery 81 [B] 199 ; 91 - 92
Validity of Classification Systems and Predictability of outcome of Acute Fractures of the Scaphoid
VV Desai, TRC Davis, NJ Barton. J. Hand Surgery 68 ( British and European) 1999 Nov. (4) 138 - 40
Carbon Fibre Pad for Articular Cartilage Defect : A Report of Histology at time of Revision
VV Desai, JH Newman. The Knee 6, no. 4 No v. 1999, 229 - 233.
Arthroscopic Resection of Degenerate Meniscal Tears - Is it Useful.
VV Desai, CE Ackroyd. The Knee 7, no. 3 Sept. 2000.
Topical Anaesthesia to Reduce Pain Associated with Carpal Tunnel Surgery
T. M. Lawrence, VV Desai. Journ al of Hand Surgery (British and European Volume, 2002) 27B: 5: 462 - 464.
Dystrophic Calcification in the Heel Pad, a case report.
A. Tambe, VV Desai. The Foot
Polyethylene Wear in a Non - congruous Unicompartmental Knee Replacement : A Retrieval Analysis.
Ashraf T, Newman J, Desai VV, Beard D, Nevalis J Knee June 2004; 11(3) 177 - 81
Avascular necrosis of the femoral head associated with pregnancy
P. Sen, S. Mukhopadhyay, V Desai. Journal of Obstetrics - 12 th April 2006
The use o f a tantalum - based Augmentation Patella in patients with a previous patellectomy:
Y .Kwong, V. V. Desai – The Knee, Volume 15, issue 2 - March 2008, PG 91.
Healing of Arthroscopic Portals: A randomized trial comparing three methods of portal closure
Acta Orthop. Belg., 2006, 72, 583 - 586 Manoj Sikand, Adeeb Murtaza, Vikram V. Desai.
Case Report : 'Acute Scoliosis in a Three Year Old Boy' - BMJ 2012
Rishi Malhotra, Raghav Murali - Ganesh, Colin Dunkly, Vikram Desai
One Year Results of The Total or Partial Knee Arthroplasty Trial - BASK 2015 - Topkat Study Group